Take a Stake in the Lake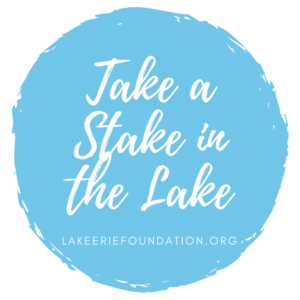 Plastics and microplastics are a critical problem impacting Lake Erie. The water we drink, eat, and grow from is polluted with microplastics. These plastics come from the choices we make for single use plastics.
You are empowered to make a difference!
Leading scientists and researchers agree that by incorporating lifestyle changes, you can make a difference. By reducing your use of everyday plastics, you can help reduce the levels of plastics and microplastics that enter Lake Erie every day.
Take a Stake in the Lake encourages individuals, businesses, employees, groups and everyone who love Lake Erie to make accountable choices by committing to not select or accept single-use plastics. Here's how:
Make a pledge to three personal goals to reduce your plastic footprint. Fill out the form and choose three (3) actions for three (3) months.
Commit to cloth grocery bags – stop using plastic grocery bags.
Use produce nets instead of the single use plastic bags for produce.
Join a beach cleanup or organize a beach cleanup in your local neighborhood. To get a list of beach cleanups, go to https://adopt.greatlakes.org/s/find-a-cleanup to find one near you.
Skip the straw. Don't use straws for your beverages or plastic stir straws at coffee shops, bars, and restaurants. Encourage businesses to switch to paper straws and stirrers and only provide straws to customers on request.
Get your morning coffee to go in a reusable coffee mug.
Start recycling at home – use the LEF recycle guide.
Ditch the single use water bottles – get a refillable water bottle or drink container.
Don't buy products that contain microbeads, often identified on labels as polyethylene, polypropylene, polylactic acid (PLA), polystyrene or polyethylene terephthalate. This includes many detergents and cosmetics.
Ask for compostable takeout containers and utensils and support restaurants that use them.
Choose local and seasonal foods and avoid prepackaged foods. Support farmers markets – join a CSA.
Break away from laundry soap jugs. Find alternative laundry products that don't use plastic jugs.
Participants:
Completion of the three-month pledge and demonstration of activities will be recognized and rewarded.
Activities demonstrating changes can be posted on Facebook, Twitter, or Instagram and LEF tagged. All photos or videos will be released to LEF for use in reports, promotions, and education.
If no social media connection, photos or videos of activities can be sent to info@lakeeriefoundation.org. These photos and videos will be released to LEF for use in education, reports, and promotions.
Each participant will be asked to complete a survey about plastic habits when they enroll and at the conclusion of their pledge period. A follow up survey will be sent to each participant six months to a year after their pledge to determine the continuation of new habits.
Participants retaining their pledge habits for one year will be awarded and recognized as a LEF Steward of Lake Erie at the annual meeting.
If you have any questions, please contact us at info@lakeeriefoundation.org
Thank you for making a difference!